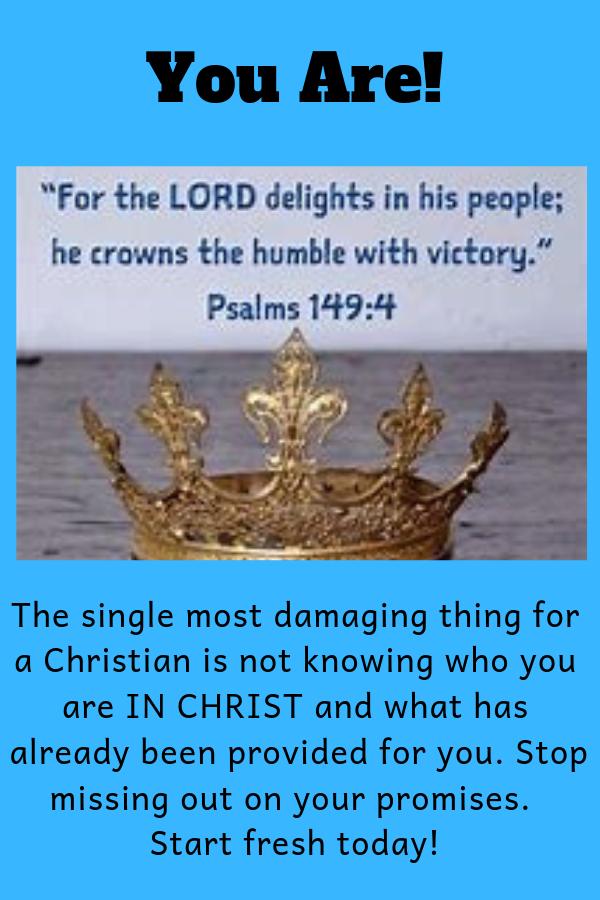 The single most damaging thing for a Christian is not knowing who we are or what has already been provided for us. It causes us to miss out on so many things God has planned and provided for us.
John 1:12 But to all who did receive Him, to those who believed in His name, He gave the right to become children of God. (Berean)
The way you become a child of God is the exact same way you receive anything from Him.
Galatians 3:26 You are all sons of God through faith in Christ Jesus. (Berean)
Faith appropiates what God has already provided.
Romans 8:16-17 The Spirit Himself testifies with our spirit that we are God's children. 17 And if we are children, then we are heirs: heirs of God and co-heirs with Christ (Berean)
The challenge is for us to be "child-like" instead of "childish."
1 Corinthians 13:11 When I was a child, I spoke and thought and reasoned as a child. But when I grew up, I put away childish things. (NLT)
Galatians 4:1-7 What I am saying is that as long as the heir is a child, he is no different from a slave, although he is the owner of everything. 2 He is subject to guardians and trustees until the date set by his father. 3 So also, when we were children, we were enslaved under the basic principlesof the world. 4 But when the time had fully come, God sent His Son, born of a woman, born under the law, 5 to redeem those under the law, that we might receive our adoption as sons. 6 And because you are sons, God sent the Spirit of His Son into our hearts, crying out, "Abba, Father!" 7 So you are no longer a slave, but a son; and since you are a son, you are also an heir through God. (Berean)
Jesus doen't just love you; He likes you enough to call you His friend.
John 15:15 No longer do I call you servants, for a servant does not understand what his master is doing. But I have called you friends, because everything I have learned from My Father I have made known to you. (Berean)
As a child of God and a joint-heir and friend of Jesus, you are also a citizen of a different kingdom.
Philippians 3:20 But we are citizens of heaven, where the Lord Jesus Christ lives. And we are eagerly waiting for him to return as our Savior. (NLT)
1 Peter 2:9-10 But you are a chosen generation, a royal priesthood, a holy nation, a people for His own; that you should show forth the praises of Him who has called you out of darkness into His marvelous light: 10 Who in time past were not a people, but are now the people of God: who had not obtained mercy, but now have obtained mercy. (NKJ)
Grace has already supplied us with everything we need. Faith doen't force God to do something. It activates what grace has already provided.
Ephesains 1:3-5 All praise to God, the Father of our Lord Jesus Christ, who has blessed us with every spiritual blessing in the heavenly realms because we are united with Christ. 4 Even before He made the world, God loved us and chose us in Christ to be holy and without fault in his eyes. 5 God decided in advance to adopt us into his own family by bringing us to Himself through Jesus Christ. This is what He wanted to do, and it gave Him great pleasure. (NLT)
Colossians 1:12-14 giving thanks unto the Father, who has made us worthy to participate in the inheritance of the saints in light, 13 who has delivered us from the power of darkness, and has translated us into the kingdom of His dear Son, 14 in whom we have redemption through His blood, even the remission of sins, (Jubilee)
1 John 5:4-5 For whoever is born of God overcomes the world: and this is the victory that overcomes the world, even our faith. 5 Who is he that overcomes the world, but he that believes that Jesus is the Son of God? (NKJ)
1 John 4:4 You are of God, little children, and have overcome them: because greater is He that is in you, than he that is in the world. (NKJ)
Ephesians 3:11-12 According to the eternal purpose which He purposed in Christ Jesus our Lord: 12 In whom we have boldness and access with confidence through faith in Him. (NKJ)
2 Corinthians 2:14 But thanks be to God, who always leads us in triumph in Christ, and manifests through us the sweet aroma of the knowledge of Him in every place. (NAS)
1 Corinthians 3:9;16 For we are God's fellow workers; you are God's field, God's building. 16 Do you not know that you are a temple of God and that the Spirit of God dwells in you? (NAS)