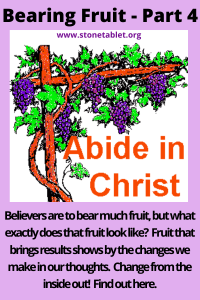 We are to bear much fruit, but what exactly does that fruit look like?
John 15:5-8 "I am the vine, you are the branches. He who abides in Me, and I in him, bears much fruit; for without Me you can do nothing. 6 If anyone does not abide in Me, he is cast out as a branch and is withered; and they gather them and throw them into the fire, and they are burned. 7 If you abide in Me, and My words abide in you, you will ask what you desire, and it shall be done for you. 8 By this My Father is glorified, that you bear much fruit; so, you will be My disciples. (NKJ) abide = A primary verb; to stay (in a given place, state, relation or expectancy) — to continue, dwell, endure, be present, remain, stand, tarry, or make thine own.
Hebrews 6:1-2 Therefore let us leave the elementary teachings about Christ and go on to maturity, not laying again the foundation of repentance from dead works, and of faith in God, 2 instruction about baptisms, the laying on of hands, the resurrection of the dead, and eternal judgment. (Berean)
Dead works are going through the motions with nothing happening. Dead works are only religious calisthenics we do to make us feel good about ourselves but produce no lasting results.
Hebrews 5:13-14 For everyone who lives on milk is still an infant, inexperienced in the message of righteousness. 14 But solid food is for the mature, who by constant use have trained their senses to distinguish good from evil. (Berean)
2 Peter 1:3-11 His divine power has given us everything we need for life and godliness through the knowledge of Him who called us by His own glory and excellence. 4 Through these He has given us His precious and magnificent promises, so that through them you may become partakers of the divine nature, now that you have escaped the corruption in the world caused by evil desires. 5 For this very reason, make every effort to add to your faith virtue; and to virtue, knowledge; 6 and to knowledge, self-control; and to self-control, perseverance; and to perseverance, godliness; 7 and to godliness, brotherly kindness; and to brotherly kindness, love. 8 For if you possess these qualities and continue to grow in them, they will keep you from being ineffective and unproductive in your knowledge of our Lord Jesus Christ. 9 But whoever lacks these traits is nearsighted to the point of blindness, having forgotten that he has been cleansed from his past sins. 10 Therefore, brothers, be all the more eager to make your calling and election sure. For if you practice these things you will never stumble, 11 and you will receive a lavish reception into the eternal kingdom of our Lord and Savior Jesus Christ. (Berean)
Hebrews 10:1-2 For the law is only a shadow of the good things to come, not the realities themselves. It can never, by the same sacrifices offered year after year, make perfect those who draw near to worship. 2 If it could, would not the offerings have ceased? For the worshipers would have been cleansed once for all, and would no longer have felt the guilt of their sins. (Berean)
Change your thoughts. See the bigger picture. It's not all about me. There are others who need our unselfish love.
Philippians 2:2-11 Fulfill my joy by being like-minded, having the same love, being of one accord, of one mind. 3 Let nothing be done through selfish ambition or conceit, but in lowliness of mind let each esteem others better than himself. 4 Let each of you look out not only for his own interests, but also for the interests of others. 5 Let this mind be in you which was also in Christ Jesus, 6 who, being in the form of God, did not consider it robbery to be equal with God, 7 but made Himself of no reputation, taking the form of a bondservant, and coming in the likeness of men. 8 And being found in appearance as a man, He humbled Himself and became obedient to the point of death, even the death of the cross. 9 Therefore God also has highly exalted Him and given Him the name which is above every name, 10 that at the name of Jesus every knee should bow, of those in heaven, and of those on earth, and of those under the earth, 11 and that every tongue should confess that Jesus Christ is Lord, to the glory of God the Father. (NKJ)
1 John 2:3-11 Now by this we know that we know Him, if we keep His commandments. 4 He who says, "I know Him," and does not keep His commandments, is a liar, and the truth is not in him. 5 But whoever keeps His word, truly the love of God is perfected in him. By this we know that we are in Him. 6 He who says he abides in Him ought himself also to walk just as He walked.
7 Brethren, I write no new commandment to you, but an old commandment which you have had from the beginning. The old commandment is the word which you heard from the beginning. 8 Again, a new commandment I write to you, which thing is true in Him and in you, because the darkness is passing away, and the true light is already shining. 9 He who says he is in the light, and hates his brother, is in darkness until now. 10 He who loves his brother abides in the light, and there is no cause for stumbling in him. 11 But he who hates his brother is in darkness and walks in darkness, and does not know where he is going, because the darkness has blinded his eyes. (NKJ)