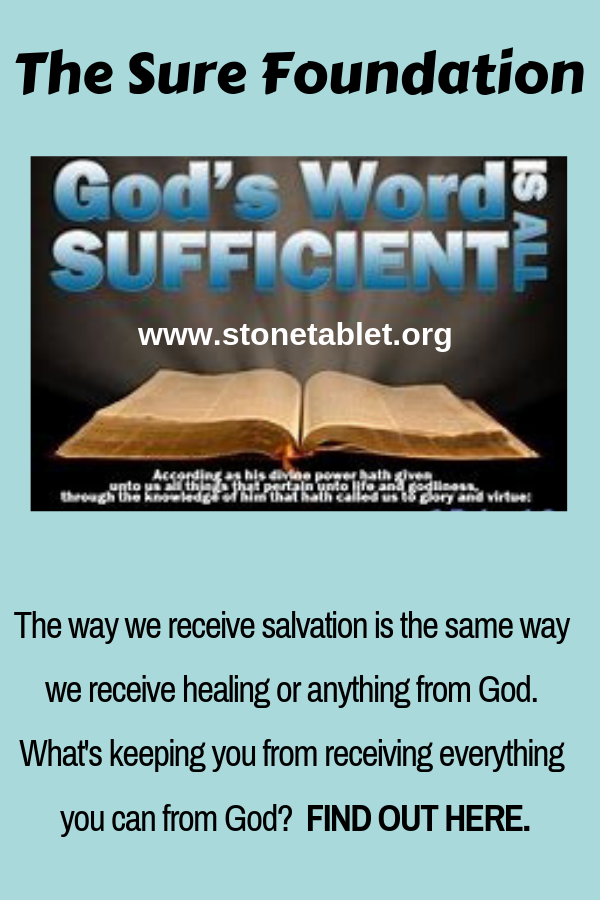 Your position from the starting point is paramount to how you finish the race.
1 Corintihains 9:24-26a Do you not know that in a race all the runners run, but only one receives the prize? Run in such a way as to take the prize. 25 Everyone who competes in the games trains with strict discipline. They do it for a crown that is perishable, but we do it for a crown that is imperishable. 26 Therefore I do not run aimlessly; (Berean)
1 Corinthians 3:10-11 By the grace God has given me, I laid a foundation as an expert builder, and someone else is building on it. But each one must be careful how he builds. 11 For no one can lay a foundation other than the one already laid, which is Jesus Christ. (Berean)
The way we receive salvation is the same way we receive healing or anything else from God. So, how do you receive salvation? By confessing your sins? No, not according to Scripture. Besides, there is no way you could remember every sin you've ever committed. What if you missed one?
Romans 10:9,10;13 That if you shall confess with your mouth the Lord Jesus, and shall believe in your heart that God has raised Him from the dead, you shall be saved. 10 For with the heart man believes unto righteousness; and with the mouth confession is made unto salvation. 13 For "Everyone who calls on the name of the LORD will be saved." (NKJ) Confession = say the same thing; agree.
John 3:15-18 That whosoever believes in Him should not perish, but have eternal life. 16 For God so loved the world, that He gave His only begotten Son, that whosoever believes in Him should not perish, but have everlasting life. 17 For God sent not His Son into the world to condemn the world; but that the world through Him might be saved. 18 He that believes on Him is not condemned: but he that believes not is condemned already, because he has not believed in the name of the only begotten Son of God. (NKJ)
So then, we are saved by asking Jesus to come into our heart? No, by believing.
Ephesains 2:5-9 Even when we were dead in sins, He has made us alive together with Christ, (by grace you are saved;) 6 And has raised us up together, and made us sit together in heavenly places in Christ Jesus: 7 That in the ages to come He might show the exceeding riches of His grace in His kindness toward us through Christ Jesus. 8 For by grace are you saved through faith; and that not of yourselves: it is the gift of God: 9 Not of works, lest any man should boast. (NKJ)
The reason many christians miss out on things already provided is because they are performance-minded based on what THEY do.
Ephesians 3:16-18a I pray that out of the riches of His glory He may strengthen you with power through His Spirit in your inner being, 17 so that Christ may dwell in your hearts through faith. And I pray that you, being rooted and grounded in love, 18a may have power, together with all the saints, (Berean)
His dwelling in our hearts is the fruit of salvation not the root.
Acts 16:30-31 And brought them out, and said, Sirs, what must I do to be saved? 31 And they said, Believe on the Lord Jesus Christ, and you shall be saved, and your house.
1 Timothy 2:5 For there is one God, and one mediator between God and men, the man Christ Jesus; (NKJ)
Acts 4:12 Neither is there salvation in any other: for there is no other name under heaven given among men, by which we must be saved. (NKJ)
Titus 3:5-7 He saved us, not because of any works of righteousness that we have done, but because of His own compassion and mercy, by the cleansing of the new birth (spiritual transformation, regeneration) and renewing by the Holy Spirit, 6whom He poured out richly upon us through Jesus Christ our Savior, 7so that we would be justified [made free of the guilt of sin] by His [compassionate, undeserved] grace, and that we would be [acknowledged as acceptable to Him and] made heirs of eternal life [actually experiencing it] according to our hope (His guarantee). (AMP)
So, should we confess our sins? Yes, not for the receiving of salvation, but for cleansing and healing.
1 John1:7-10 But if we walk in the light, as He is in the light, we have fellowship one with another, and the blood of Jesus Christ His Son cleanses us from all sin. 8 If we say that we have no sin, we deceive ourselves, and the truth is not in us. 9 If we confess our sins, He is faithful and just to forgive us our sins, and to cleanse us from all unrighteousness. 10 If we say that we have not sinned, we make Him a liar, and His word is not in us. (NKJ)
James 5:16 Confess your sins to each other and pray for each other so that you may be healed. The earnest prayer of a righteous person has great power and produces wonderful results. (NLT) Sins = missing the mark.
Romans 5:1-2 Therefore being justified by faith, we have peace with God through our Lord Jesus Christ: 2 By whom also we have access by faith into this grace in which we stand, and rejoice in hope of the glory of God. (NKJ)
God does not react to our needs (He already did). We react to His provoided supply by responding in faith. Find balancce in His grace (His finished work) and faith (our response to what He did).
Romans 14:23b for whatever is not of faith is sin. (NKJ)
Matthew 6:31-33 Therefore take no thought, saying, What shall we eat? or, What shall we drink? or, How shall we be clothed? 32 (For after all these things do the Gentiles seek:) for your heavenly Father knows that you have need of all these things. 33 But seek you first the kingdom of God, and His righteousness; and all these things shall be added unto you. (NKJ)
Worry is a converstion you have with yourself about something you cannot change. Prayer is a conversation you have with God that He alone did change. Accurate faith will change the way you talk to God. There will be less asking Him to do something and more praising Him for what He has already provided. Example: do you ask Him everyday to save you or praise Him for salvation?