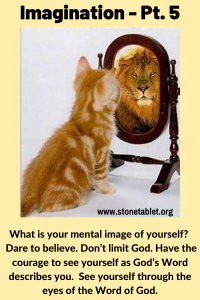 What is your mental image of yourself? How do you see yourself? Do you see yourself sick, weak, broke, poor, old with wrinkles? "Well, yea… that's what I see in the mirror." But that is not the real you (your spirit), it's only a reflection. You have never seen your own face with your own eyes; you've only seen a reflection or image. You cannot go by the physical (the 5 senses) to evaluate the spiritual. You're looking into the wrong mirror. Look into the mirror of God's Word.
James 1:22-25 But be doers of the Word, and not hearers only, deceiving yourselves. 23 For if anyone is a hearer of the Word and not a doer, he is like a man observing his natural face in a mirror; 24 for he observes himself, goes away, and immediately forgets what kind of man he was. 25 But he who looks into the perfect law of liberty and continues in it, and is not a forgetful hearer but a doer of the work, this one will be blessed in what he does. (NKJ)
2 Corinthians 3:7-17 Now if the ministry of death, which was engraved in letters on stone, came with such glory that the Israelites could not gaze at the face of Moses because of its fleeting glory, 8 will not the ministry of the Spirit be even more glorious? 9 For if the ministry of condemnation was glorious, how much more glorious is the ministry of righteousness! 10 Indeed, what was once glorious has no glory now in comparison to the glory that surpasses it. 11 For if what was fading away came with glory, how much greater is the glory of that which endures! 12 Therefore, since we have such a hope, we are very bold. 13 We are not like Moses, who would put a veil over his face to keep the Israelites from gazing at the end of what was fading away. 14 But their minds were closed. For to this day the same veil remains at the reading of the old covenant. It has not been lifted, because only in Christ can it be removed. 15 And even to this day when Moses is read, a veil covers their hearts. 16 But whenever anyone turns to the Lord, the veil is taken away. 17 Now the Lord is the Spirit, and where the Spirit of the Lord is, there is freedom. 18 And we, who with unveiled faces all reflect the glory of the Lord, are being transformed into His image with intensifying glory, which comes from the Lord, who is the Spirit. (NKJ)
Colossians 3:9-10 … since you have taken off the old self with its practices, 10 and have put on the new self, which is being renewed in knowledge in the image of its Creator. (Berean)
Ephesians 4:22-23 throw off your old sinful nature and your former way of life, which is corrupted by lust and deception. 23 Instead, let the Spirit renew your thoughts and attitudes. 24 Put on your new nature, created to be like God—truly righteous and holy. (NLT)
Romans 8:28-39 And we know that God works together all things for good to those loving God, to those being called according to His purpose, 29 because those whom He foreknew, He also predestined to be conformed to the image of His Son, for Him to be firstborn among many brothers. 30 And those whom He predestined, these also He called; and whom He called, these also He justified; and whom He justified, these also He glorified. 31 What then will we say to these things? If God is for us, who can be against us? 32 For He who spared not the own Son, but gave Him up for us all, how will He not also, with Him, grant us all things? 33 Who will bring an accusation against the elect of God? God is the One justifying. 34 Who is the one condemning? For it is Christ Jesus, the one having died, now rather having been raised up, who is also at the right hand of God, and who is interceding for us. 35 Who shall separate us from the love of Christ? Shall trouble or distress or persecution or famine or nakedness or danger or sword? 36 As it is written: "For Your sake we face death all day long; we are considered as sheep to be slaughtered." 37 No, in all these things we are more than conquerors through Him who loved us. 38 For I am convinced that neither death nor life, neither angels nor principalities, neither the present nor the future, nor any powers, 39 neither height nor depth, nor anything else in all creation, will be able to separate us from the love of God that is in Christ Jesus our Lord. (Berean)
Mark 9:23 Jesus said to him, "If you can believe, all things are possible to him who believes." (NKJ)
Job 33:23-26 Yet if there is a messenger on his side, one mediator in a thousand, to tell a man what is right for him, 24 to be gracious to him and say, 'Spare him from going down to the Pit; I have found his ransom,' 25 then his flesh is refreshed like a child's; he returns to the days of his youth. 26 He prays to God and finds favor; he sees God's face and shouts for joy, and God restores His righteousness to that man. (Berean)
Psalm 103:1-5 Bless the Lord, O my soul; And all that is within me, bless His holy name! 2 Bless the Lord, O my soul, And forget not all His benefits: 3 Who forgives all your iniquities, Who heals all your diseases, 4 Who redeems your life from destruction, Who crowns you with lovingkindness and tender mercies, 5 Who satisfies your mouth with good things, So that your youth is renewed like the eagle's. (NKJ)
Dare to believe. Don't limit God. Have the courage to see yourself as God's Word describes you. Look through your spiritual eyes. See with your spirit using your imagination to receive what God has already provided for you.