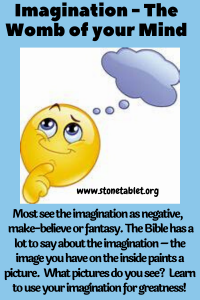 Most people see the imagination as a negative thing such as make-believe or fantasy. The Bible has a lot to say about the imagination – the image you have on the inside.
Proverbs 23:7a  For as he thinks in his heart, so is he. (NKJ)
1 Chronicles 28:9 And thou, Solomon my son, know thou the God of thy father, and serve Him with a perfect heart and with a willing mind: for the LORD searchs all hearts, and understands all the imaginations of the thoughts: if thou seek Him, He will be found of thee; but if thou forsake Him, He will cast thee off forever. (NKJ) yetser – a form; figuratively, conception (i.e. Purpose) — frame, thing framed, imagination, mind, work.
1 Chronicles 29:18 O LORD God of Abraham, Isaac, and of Israel, our fathers, keep this forever in the imagination of the thoughts of the heart of thy people, and prepare their heart unto thee: (KJV)
Isaiah 26:3 You will keep him in perfect peace, whose mind is stayed on You, because he trusts in You. (NKJ)
Psalm 103:13-14 As a father has compassion for his children, So the Lord has compassion for those who fear Him. 14 For He knows our frame; He remembers that we are dust. (NKJ)
Our memories are in pictures. Our dreams are in pictures. Our thoughts are in pictures. We use our imagination to see with our mind.
1 Kings 19:1-3 And Ahab told Jezebel all that Elijah had done, also how he had executed all the prophets with the sword. 2 Then Jezebel sent a messenger to Elijah, saying, "So let the gods do to me, and more also, if I do not make your life as the life of one of them by tomorrow about this time." 3 And when he saw that, he arose and ran for his life, and went to Beersheba, which belongs to Judah, and left his servant there. (NKJ)
How do you see yourself when you get a negative report? The diagnosis is terminal. Do you see yourself dying or maybe even see your funeral? Worry is a negative imagination. Faith is imagining what God's Word says.
Hebrews 11:1-3 Now faith is the substance of things hoped for, the evidence of things not seen. 2 For by it the elders obtained a good report. 3 Through faith we understand that the worlds were framed by the Word of God, so that things which are seen were not made of things which do appear. (KJV)
Hebrews 11:1-3 Now faith is the assurance (title deed, confirmation) of things hoped for (divinely guaranteed), and the evidence of things not seen [the conviction of their reality—faith comprehends as fact what cannot be experienced by the physical senses]. 2 For by this [kind of] faith the men of old gained [divine] approval. 3 By faith [that is, with an inherent trust and enduring confidence in the power, wisdom, and goodness of God] we understand that the worlds (universe, ages) were framed and created [formed, put in order, and equipped for their intended purpose] by the Word of God, so that what is seen was not made out of things which are visible. (AMP)
Most people are seeking a change on the outside – in the physical realm first. You must have a positive imagination (the way you see yourself) on the inside before change will come on the outside.
Stop seeing yourself as sick, poor, or broke. Imagine, what would it look like if you were rich, healthy, prosperous? It is not enough to strongly desire something. You must see yourself (have a mental picture) the way God sees you. How? By seeing yourself in the mirror of God's Word.
James 1:22-25 But be doers of the Word, and not hearers only, deceiving yourselves. 23 For if anyone is a hearer of the Word and not a doer, he is like a man observing his natural face in a mirror; 24 for he observes himself, goes away, and immediately forgets what kind of man he was. 25 But he who looks into the perfect law of liberty and continues in it, and is not a forgetful hearer but a doer of the work, this one will be blessed in what he does. (NKJ)
Psalm 107:20 He sent His Word and healed them, And delivered them from their destructions. (NKJ)
Proverbs 29:18 Where there is no vision, the people perish: but he that keeps the law, happy is he. (NKJ)
3 John 1:2 Beloved, I wish above all things that thou mayest prosper and be in health, even as thy soul prospers. (KJV)
Psalm 103:2-5 Bless the LORD, O my soul, and forget not all his benefits: 3 Who forgives all your iniquities; who heals all your diseases; 4 Who redeems your life from destruction; who crowns you with lovingkindness and tender mercies; 5 Who satisfies your mouth with good things; so that your youth is renewed like the eagle's. (NKJ)
1 Peter 2:24 Who His own self bore our sins in His own body on the tree, that we, being dead to sins, should live unto righteousness: by whose stripes you were healed. (NKJ)
Psalm 119:15 I will meditate on your precepts and fix my eyes on your ways. (ESV)
It is not enough to simply think of God's Word as fact. You must see it with your mind working in and through you.