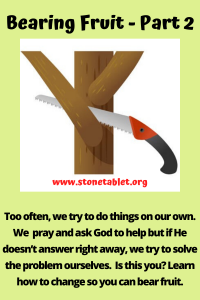 Too often, we try to do things on our own. Yes, we will pray and ask God to do something but if He doesn't answer us immediately, we try to solve the problem ourselves.
John 15:5-8 "I am the vine, you are the branches. He who abides in Me, and I in him, bears much fruit; for without Me you can do nothing. 6 If anyone does not abide in Me, he is cast out as a branch and is withered; and they gather them and throw them into the fire, and they are burned. 7 If you abide in Me, and My words abide in you, you will ask what you desire, and it shall be done for you. 8 By this My Father is glorified, that you bear much fruit; so, you will be My disciples. (NKJ)
It does not glorify God for you to not have your prayers answered.
John 15:1-2 "I am the true vine, and My Father is the vinedresser. 2 Every branch in Me that does not bear fruit He takes away; and every branch that bears fruit He prunes, that it may bear more fruit. (NKJ)
Prune – kathaírō – make clean by purging (removing undesirable elements); hence, "pruned (purged)"; eliminating what is fruitless.
We must allow God to remove the things that are hindering our growth. Sucker stems are things we allow that will never produce anything. Don't blame God for the door you allowed opened.
Titus 1:15-16 To the pure all things are pure, but to those who are defiled and unbelieving nothing is pure; but even their mind and conscience are defiled. 16 They profess to know God, but in works they deny Him, being abominable, disobedient, and disqualified for every good work. (NKJ) Pure = katharós "without admixture;" what is separated (purged), hence "clean" (pure) because unmixed (without undesirable elements); free from contaminating influences.
1 Peter 1:22=23 Since you have purified your souls in obeying the truth through the Spirit in sincere love of the brethren, love one another fervently with a pure heart, 23 having been born again, not of corruptible seed but incorruptible, through the Word of God which lives and abides forever, (NKJ)
The flesh (your own efforts) can never produce spiritual results. It can only leave you with an Ishmael.
Proverbs 10:22 The blessing of the LORD makes one rich, And He adds no sorrow with it. (NKJ)
Hebrews 4:1-3;8-11 Let us therefore fear, lest, a promise being left us of entering into his rest, any of you should seem to come short of it. 2 For unto us was the gospel preached, as well as unto them: but the Word preached did not profit them, not being mixed with faith in them that heard it. 3 For we which have believed do enter into rest, as He said, As I have sworn in My wrath, if they shall enter into My rest: although the works were finished from the foundation of the world. 8 For if Jesus had given them rest, then would He not afterward have spoken of another day. 9 There remaineth therefore a rest to the people of God. 10 For he that is entered into His rest, he also hath ceased from his own works, as God did from His. 11 Let us labour therefore to enter into that rest, lest any man fall after the same example of unbelief. (KJV)
Ceasing from your own works does not mean doing nothing. It just means not doing our own thing (will).
 John 5:19 Then Jesus answered and said to them, "Most assuredly, I say to you, the Son can do nothing of Himself, but what He sees the Father do; for whatever He does, the Son also does in like manner.
John 5:30 I can of mine own self do nothing: as I hear, I judge: and my judgment is just; because I seek not mine own will, but the will of the Father which hath sent me. (KJV)
John 12:49-50 For I have not spoken on My own authority; but the Father who sent Me gave Me a command, what I should say and what I should speak. 50 And I know that His command is everlasting life. Therefore, whatever I speak, just as the Father has told Me, so I speak." (NKJ)
John 14:10-11 Do you not believe that I am in the Father, and the Father in Me? The words that I speak to you I do not speak on My own authority; but the Father who dwells in Me does the works. 11 Believe Me that I am in the Father and the Father in Me, or else believe Me for the sake of the works themselves. (NKJ)
You may be thinking, "Yes, but that was Jesus. I can't do what He did."
1 John 4:17 In this is our love made perfect, that we may have boldness in the day of judgment: because as he is, so are we in this world. (NKJ)
Luke 10:19 See, I have given you authority to tread on snakes and scorpions, and over all the power of the enemy. Nothing will harm you. (NKJ)
Matthew 10:8 Heal the sick, raise the dead, cleanse the lepers, drive out demons. Freely you have received; freely give. (NKJ)
You cannot give what you don't have. You cannot receive (bear fruit) if you won't allow God to remove the contaminating influences that hinder your growth.